Make a birthday card with ImgPlay with font style and font color you like.
Add Text
To add text, select the [Text] icon.
Type text, and change font on the font tab.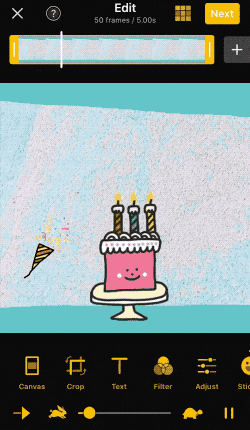 🙋‍♀️ In case you cannot find a font you like ( 👑 Pro )
Tap [Import Fonts ⊕] on the top of the font list to import your own font.
To get to know how to import fonts, please check the following FAQ link: How to import external fonts 🔤
Edit Text
Font color and Stroke
Change the font color on the color tab, and change the color of stroke and background(BG) on the next color tab.


Animate Text ( 👑 Pro )
Try various styles of text animation on the Pro version. Select a text animation style you like and tap [Done].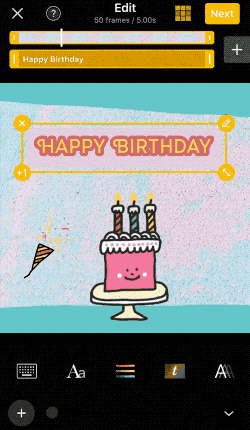 Resize and Move Text
To resize the text, pinch in/out the text box with two fingers.
To move text, drag the text box.

Each button of the text box can:

Copy the text

Delete the text


Edit the text

Resize the text
Change duration of text
To change the duration of text, tap the text box, and drag the edge of the text section on the upper side of the screen.